School Holiday Clinic | State Titles (Seniors) | Thank You | Net Set Go Red |
♕ ♕ ♕


IMPORTANT DATES:
Dates to put in your diary:
6th to 8th July - State Titles (Juniors) Baulkham Hills.
20th July - Crazy Sock Day.
21st July - School Holiday Clinic.
28th July - All Age Carnival.
Check out the Events section on our FaceBook page
* you can hit the ~INTERESTED~ button to keep up to date & receive reminders on all these important dates!

===============================================

School Holiday Clinic.
16th June.
Not long now until our school holiday clinic!
Come and experience a not to be missed training opportunity with our very own Maddie Taylor,
and her wonderful Central Coast Heart team mates.
The clinic is aimed at players from 9 to 12 years of age.
It will be run at Charlestown Netball Courts from 9 a.m. to 12 p.m. on Sunday 21 July 2019, at a cost of $25 per person.
Please register quickly as places are limited and selling out fast!
Register here.

Hart Senior State Titles.
11th June.
Day three recap:
Opens finished off the competition by playing a couple of teams in the top four.
After a few tough matches, they came away with three wins and three losses, leaving them in 7th position.

The Under 17s also experienced three wins and three losses on their last day of competition.
They kept their heads up high and should be proud of their effort.

The Under 15s had a couple of nail biting finishes in their games, coming away with one loss, three wins and two draws.
There was not much between the top of the leader board with the Under 15s ending up in a well deserved fourth place.

Well done to everyone for the effort put in over the whole weekend.
You gave it your all and left everything you had on the court. We could not be prouder.♡♡


Top of page
Hart Senior State Titles.
10th June.
Big shout out to our fabulous umpires for their great work over the weekend.
We know your work is often under appreciated, but we wouldn't have a game without you.
Thank you for your tireless work.


Hart Senior State Titles.
9th June.
Day two recap:
The Opens team has continued their run with four wins, two losses and a bye today.
Manly Warringah, currently placed second on the ladder, proved too strong in the fifth game (again).
At the end of day two the Opens team is sitting in sixth position, with a spot in the top four still within reach.

The Under 17s came out with a point to prove today.
They came away with four wins, two losses and a draw.
At the end of day two the Under 17s team is sitting in the middle of the pack.
We will have to wait and see what tomorrow brings.

The Under 15s continued their winning streak today pulling five convincing wins, one draw and a bye.
They are currently sitting in fourth position on the ladder, due to play the teams ahead of them tomorrow.
They will no doubt have their sights set on finals.
We wish everyone the best of luck as they move into the final day!


Top of page
Hart Senior State Titles.
8th June.
Day one recap:
The Open's team is off to a good start with five wins and one loss.
Randwick proved too strong in their fifth game, marking the only loss for the day.
A mixture of tight and comfortable margins does not necessarily reflect the calibre of the games being played.

The Under 17s had a rough start to the competition, playing a number of difficult games.
They experienced two wins and four losses, with some tight games that could've gone either way.

The Under 15s came out all guns blazing on day one, with four wins in a row.
Unfortunately Temora and Lakeside proved too strong in the last games of the day.


Hart Senior State Titles.
7th June.
Wishing our representative teams, coaches, managers, umpires, families, sports trainers and support personnel all the best at the 2019 Hart Senior State Titles in Campbelltown this weekend.
Play hard, play fair, play your best and wear the red and blue with pride.
Shout out to our sponsor McCarroll's Automotive Group (www.mccarrolls.com.au) for not only our transport but also sponsoring the representative program.
We would not be where we are without you.


Top of page
All Age Carnival.
25th May.
Entries are now open for the Charlestown Netball Association All Age Carnival.
The carnival will be held on Sunday 28 July 2019 and is open to teams of all ages.
Please follow the link to register and contact Elly Tindall on 0425 301 200 should you have any questions.
Register here.

Thank You.
25th May.
Charlestown netball Association would like to take this opportunity to thank our outgoing executive committee
for all their hard work, dedication and support.
We most definitely would not be where we are today if it wasn't for you!♡ ♡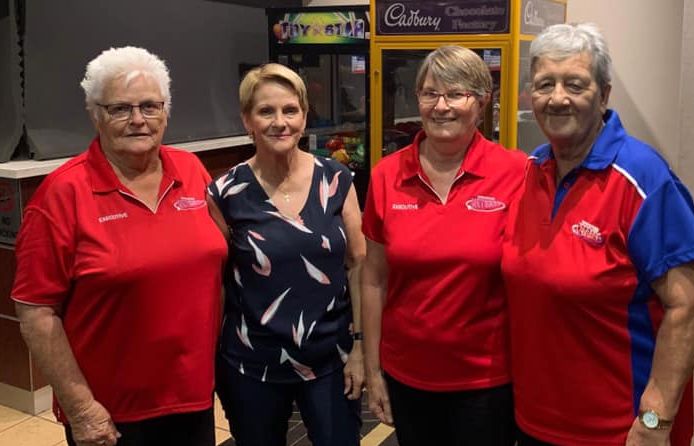 Top of page
Net Set Go Red.
10th May.
Attention all Net Set Go Red participants, coaches and parents!!
Just a reminder that from round 8 (1 June 2019) some of the rules will change, as follows:
Size of ball will be size 5 (currently can be either 4 or 5 as discussed with opposition).
Held ball will convert to 3 second ruling (currently 4 seconds).
Infringements such as short pass, replay, offside, contact, obstruction, footwork and breaking will be penalised
by way of free or penalty passes, rather than per Net Set Go rules.
We will continue to alternate centres, as well as not keeping a record of the score.
You should also continue to rotate all players fairly through the positions.
This rule will change once they are playing in the 10 years competition.
If you have any questions, please contact us.


Rep Trials.
8th May.
☆Congratulations to all our beautiful, talented Charlestown Netball Association girls that have trialled
for the NSWCHSSA and the AICES teams over the last week.
We could not be prouder of you!
From left to right:
Sophia McMahon, Amali Fitzhenry, Reynah Barnard, Ella Ross, Hayley O'Brien, Emma Wyborn,
Maggie Greentree, Bridget Hobden, Aela Streatfield, Chloe Cook.
Absent: Marnie Robinson


Top of page
Thank you McCarrolls.
7th May.
☆Big shout out to McCarrolls, the major sponsor of our representative program for providing transport for our carnivals.
We greatly appreciate all you have done and continue to do for our netball association.


Top of page
Athletes Foot.
23rd February.
Time to get your new netball shoes? Visit the Athlete's Foot and receive your special Charlestown Netball discount of 15%.
Thank you Athlete's Foot for your support of our members.


2019 Facebook Cover Photo.
Top of page
Charlestown Netball welcome the following as sponsors for the 2019 season.
Athletes Foot,
Greater Bank,
Central Charlestown Leagues Club,
Lake Macquarie Private Hospital and Ethos Health,
McCarrolls Automotive,
Mullane Plumbing.



Top of page
Wet Weather News
We have a system for updating club news including wet weather updates. ☂ ☂ ☂
Just go to this link Wet Weather
On Apple devices, you will be asked to save the App to your home screen, other devices will allow you to bookmark and add the shortcut to your home screen.
This can be accessed from any device that has an internet connection.
More News Items Please see News Archive link on left (above left).
For Game Draws, Results and Umpires, see Draw Results.
Top of page
☆ 24th January 2012. We are now on Facebook!
Like us to get updates about what is going on. Click on icon or Search for Charlestown Netball Association Inc.


☺
==========
Wet Weather Info Good Sports Info Codes of Behaviour


Top of page