Junior Selections | Coaching Sessions | Twilight Competition |
♕ ♕ ♕


IMPORTANT DATES:
3rd December - Twilight Comp finishes
16th October - Coaching Sessions start
6 weeks until Christmas
Check out the Events section on our FaceBook page
* you can hit the ~INTERESTED~ button to keep up to date & receive reminders on all these important dates!

===============================================

Amy Parmeter.
7th November.
Great night last night with the Representative squads getting a workout by Amy Parmeter.
Well done everyone. Thanks Amy.♡



More photos in Photo Gallery.


Koori Netball Tournament.
27th October.
A few action shots from the Koori Netball Tournament today. Well done everyone.




President of Charlestown Netball, Di Pascoe, said the tournament which attracted 9 teams in its first year,
will bring no less than 103 teams in its 19th year, a mixture of female and male junior and senior players
from up and down the coast and as far away as Broken Hill.



More photos in Photo Gallery.


Top of page
Twilight Competition.
15th October. The draw for Twilight is now live, click on Draw/Results on the left hand side and follow the prompts.
Please note there have been some changes to the draw.
All mixed divisions will now play at 7:45pm, that is Mixed Red, Mixed Blue and Mixed White.
Other divisions may change due to the inclusion of teams.
Please check your draw carefully. Thanks.

Top of page
2018 Grand Finals.
21st September.
Great photos of Grand Final teams Heat and Crossfire.
☆ Well done to both teams, it was a fantastic game of netball.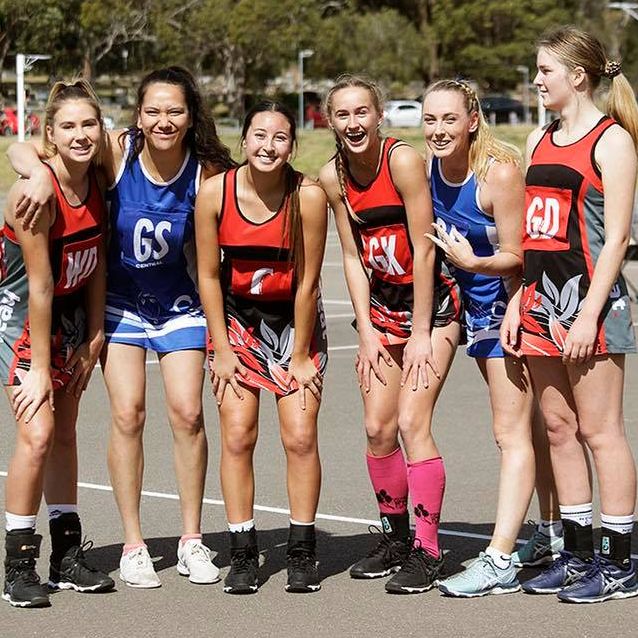 ☆ The 2018 Irene Murray player of the Grand Final was Georgia Marr from Crossfire, congratulations Georgia.




Our 2018 Umpire Awards.
☆ Congratulations to Paris Mortimer who was Awarded the Marie Caddies Umpire Award and
to Lucy Davidson who was awarded the Umpires Encouragement Award, well done Paris and Lucy.




Top of page
☆ Congratulations to Ashlea Robinson who was awarded the 2018 Sportsmanship Award, well done Ashlea.




Some photos from our Grand Final today, big thanks to Sam Poolman for coming and visiting.



☆ Congratulations to everyone involved, well done!!

More photos on the Photo Gallery page

Top of page
NetSetGo 2018.
11th August.
Fabulous photos from our NetSetGo last day of play and presentation. Great work everyone. ♡



More pics on Photo Gallery page.

Top of page
Crazy Day.
Picture from our Crazy sock and hair day, Saturday 28 July, well done girls.

New Facebook Cover Photo.
Top of page
Athletes Foot.


31st January.
Charlestown Netball welcomes The Athlete's Foot, Charlestown as one of our official sponsors for 2018,
with special discounts for our members. Thank you Athletes Foot.
Charlestown Netball Members - visit the store at Charlestown Square to get your discount off all netball shoes.
Click for more details. (15% Discount).
The Athlete's Foot have teamed up with @netfitnetball's Sarah Wall (@Netfitsarah) and Kim Green (@kimmygee8) to test out our great range of ASICS.
Come and get fitted for your position today. #TheAthletesFootAU #MyFit #MyNetballFit


Top of page
Our Kind Sponsors.
We want to thank our sponsors: Central Leagues Club, Lake Macquarie Private Hospital and Ethos Health.
Without your support, we could not survive. Thank you.




More wonderful sponsors,
please support these businesses whenever you can, because they support us. Thank you.


Top of page
2017 SURVEY RESULTS:
Dear Charlestown Netball Association Members, Parents and Supporters,

In September 2016, you were all invited to participate in a survey about your experience at Charlestown Netball Association.
We had a large number of responses, and would like to thank those who were able to complete it.
From the results of this survey, we are developing a three year strategic plan, to help us continue to meet your needs and expectations.

We have attached a summary of the results from the survey.
Click here to have a look at them,
and if you have any questions or concerns, please contact me, President Di Pascoe, or any member
of our executive team who would be more than willing to discuss your feedback.

Regards
Sarah Winn
Regional Coordinator - Hunter and Northern Inland (02)4902 8876 swinn@netballnsw.com


Top of page
Wet Weather News
We have a new system for updating club news including wet weather updates. ☂ ☂ ☂
Just go to this link Wet Weather
On Apple devices, you will be asked to save the App to your home screen, other devices will allow you to bookmark and add the shortcut to your home screen.
This can be accessed from any device that has an internet connection.
More News Items Please see News Archive link on left (above left).
For Game Draws, Results and Umpires, see Draw Results.
Top of page
☆ 24th January 2012. We are now on Facebook!
Like us to get updates about what is going on. Click on icon or Search for Charlestown Netball Association Inc.


☺
==========
Wet Weather Info Good Sports Info Codes of Behaviour


Top of page