Annual General Meeting | Athlete's Foot Discounts | Coaching Sessions
♕ ♕ ♕


IMPORTANT DATES:
Dates to put in your diary:
1st February - 2019 Registrations open.
23rd March - Coaching Sessions.
30th March - Round 1 Winter Competition.
8th April - AGM.
Check out the Events section on our FaceBook page
* you can hit the ~INTERESTED~ button to keep up to date & receive reminders on all these important dates!

===============================================

There are days till .. the season starts!





Annual General Meeting.
6th March.
NOTICE OF 2019 ANNUAL GENERAL MEETING
The Annual General Meeting of Charlestown Netball Association Inc will be held on Monday, 8 April, 2019 at Central Leagues Club, 7:00pm.

All Executive and Committee positions are declared vacant and nominations for all positions must be on the relevant form available on Forms, Policies and Insurance page.
Forms are to be signed by nominees, their nominator and seconder, all of whom must be financial members of Charlestown Netball Association Inc.
Forms are to be lodged with the Secretary (cna.secretary1@gmail.com) by 5.00pm on Friday 22 March 2019.


Coaching Sessions.
2nd March.
The Association is going to run two (2) coaching sessions on Saturday, 23 March 2019, facilitated by Kellie Aurisch and Gail Mayers.

NetSetGO Session: 9.30am to 11.30am
It is requested that all NetSetGO coaches attend this session.
The session will deal with rules and umpiring for both the 5-8 years and the 9 year olds.

Coaching Session: 12mid- 2pm
This session is for all coaches who require further confidence in their coaching or for those who would like to refresh their skills.
Both sessions will assist those who are considering completing the NNSW Foundation Course online.
Please bring a notepad and pen, water bottle and appropriate footwear for the sessions.
RSVP to Jo Taylor on 0418 862408 by Friday 22 March with names of participants for either or both sessions.


Athletes Foot.
23rd February.
Time to get your new netball shoes? Visit the Athlete's Foot and receive your special Charlestown Netball discount of 15%.
Thank you Athlete's Foot for your support of our members.


Jodie Harrison MP.
20th February.
Last night we invited Jodie Harrison MP for Charlestown, to meet some of our players and coaches,
so we could thank her for her support in our grant application for our new goal post pads.
Thank you Jodie, we really appreciate your support.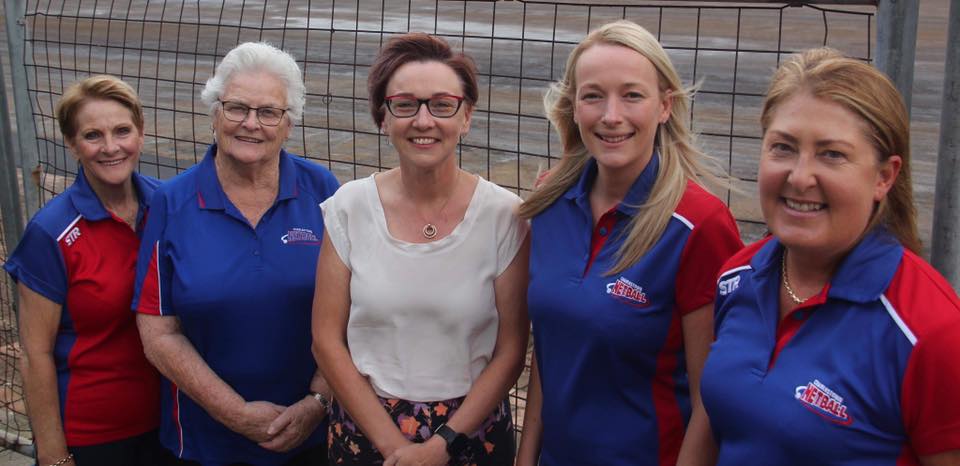 Top of page
Canteen Supervisor.
22nd January 2019.
Charlestown Netball Association are seeking an experienced and engaging Canteen Supervisor to assist in overseeing the operations of a busy netball canteen.
The Canteen Supervisor is responsible for the profitable management and operation of the canteen.
If you are interested please contact Dianne Pascoe 0408 689150 for the Position Description.

Top of page
2019 Information booklet and Nomination Forms.
8th January 2019.
The Player Information booklet and Nomination forms for Executive, Life Member and Essie Toneguzzi Awards have been updated and are now on the Forms page. See forms for the Closing Dates.


2019 Calendar and Winter Comp Fees.
12th December 2018.
Next year's programme has been added to the Calendar page and the Winter Competition Fee Schedule is now on the Forms page.


Top of page
New Facebook Cover Photo.
Top of page
Our Kind Sponsors.
We want to thank our sponsors: Central Leagues Club, Lake Macquarie Private Hospital and Ethos Health.
Without your support, we could not survive. Thank you.




More wonderful sponsors,
please support these businesses whenever you can, because they support us. Thank you.


Top of page
Wet Weather News
We have a new system for updating club news including wet weather updates. ☂ ☂ ☂
Just go to this link Wet Weather
On Apple devices, you will be asked to save the App to your home screen, other devices will allow you to bookmark and add the shortcut to your home screen.
This can be accessed from any device that has an internet connection.
More News Items Please see News Archive link on left (above left).
For Game Draws, Results and Umpires, see Draw Results.
Top of page
☆ 24th January 2012. We are now on Facebook!
Like us to get updates about what is going on. Click on icon or Search for Charlestown Netball Association Inc.


☺
==========
Wet Weather Info Good Sports Info Codes of Behaviour


Top of page