All Age Carnival | Stage Age Championships | Umpires New Badges | Umpires Can Hear You
♕ ♕ ♕


IMPORTANT DATES:
29 July - Lake Macquarie Games - All Age Carnival
Check out the Events section on our FaceBook page
* you can hit the ~INTERESTED~ button to keep up to date & receive reminders on all these important dates!

===============================================

All Age Carnival.
We invite all teams to attend our Annual Lake Macquarie Games - All Age Carnival,
to be held on Sunday 29 July 2018 commencing at 8:30am.
Cost: $33 per team
Full canteen and BBQ facilities and First Aid
Umpire your own game
Enquiries: Elly Tindall (0425 301 200)
Register here

Coming to our Carnival?
Don't forget to bring your cash or card,
our friends from The Athlete's Foot will be located next to the coffee cart
to fit you up in your new netball shoes and will be offering some on the day discounts!


2018 State Age Championships.
9th July.
The 2018 State Age Championships are done and dusted.
☆ Congratulations to our teams, coaches, managers, umpires, officials and sports trainers.
So proud of each and every player, you all played with such sportsmanship and respect.
Results were mixed but each and every one gave your best and that is all we can ask.
Treasure your memories and new friendships made over the weekend.
Well done Charlie Girls.




8th July
♡ Our amazing umpires at Camden. Great job ladies.




7th July
Our 12's and 13's at the March Past today.




♡ Our two wonderful umpires at Liverpool. Well done ladies.




Ready for the March Past at Camden, good luck to our 14's and 15's at the Netball NSW State Age Championships this weekend.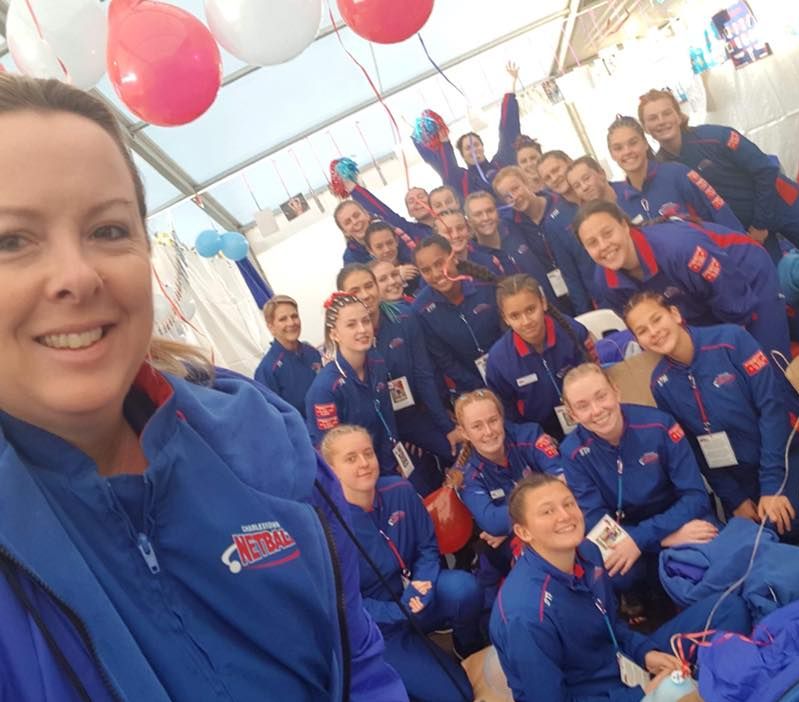 Top of page
National C Umpire.
30th June.
☆ Congratulations to Amity Petersen on gaining your National `C` badge today. Well done!!


National B Umpire.
23rd June.
☆ Congratulations to Anthony Jarvis, who today was successful in gaining his National B badge. Well done Anthony.


Top of page
Netball NSW State Carnival Gosford 7-9 June.
11th June.
☆ Congratulations to our OPEN's team, equal Second in the State, (third on goal average). Well done ladies!!




☆ Congratulations to our U/17's team, 8th on the ladder, well done as well!




♡ A big thank you to coaches Leonie and Mandy, and managers Megan and Paula for everything you all have done for our players,
your time and effort certainly showed in the results, thank you.

♥ A huge thank you to our wonderful umpires Anthony, Louise, Lauren M, Tanya and Lauren C,
who umpired rain, wind and shine at the weekend. We appreciate your support.



♡ Thank you also to Jodie M, Elly, Gail, Jodie H, Ross, Paul and Matt for looking after our players, either by feeding them
or looking after their injuries.
We couldn't do it without you all. Thank you.
(More photos to be posted in Photo Gallery).


New Facebook Cover Photo.
Top of page
Athletes Foot.


31st January.
Charlestown Netball welcomes The Athlete's Foot, Charlestown as one of our official sponsors for 2018,
with special discounts for our members. Thank you Athletes Foot.
Charlestown Netball Members - visit the store at Charlestown Square to get your discount off all netball shoes.
Click for more details. (15% Discount).
The Athlete's Foot have teamed up with @netfitnetball's Sarah Wall (@Netfitsarah) and Kim Green (@kimmygee8) to test out our great range of ASICS.
Come and get fitted for your position today. #TheAthletesFootAU #MyFit #MyNetballFit


Top of page
Our Kind Sponsors.
We want to thank our sponsors: Central Leagues Club, Lake Macquarie Private Hospital and Ethos Health.
Without your support, we could not survive. Thank you.




More wonderful sponsors,
please support these businesses whenever you can, because they support us. Thank you.


Top of page
2017 SURVEY RESULTS:
Dear Charlestown Netball Association Members, Parents and Supporters,

In September 2016, you were all invited to participate in a survey about your experience at Charlestown Netball Association.
We had a large number of responses, and would like to thank those who were able to complete it.
From the results of this survey, we are developing a three year strategic plan, to help us continue to meet your needs and expectations.

We have attached a summary of the results from the survey.
Click here to have a look at them,
and if you have any questions or concerns, please contact me, President Di Pascoe, or any member
of our executive team who would be more than willing to discuss your feedback.

Regards
Sarah Winn
Regional Coordinator - Hunter and Northern Inland (02)4902 8876 swinn@netballnsw.com


Top of page
Wet Weather News
We have a new system for updating club news including wet weather updates. ☂ ☂ ☂
Just go to this link Wet Weather
On Apple devices, you will be asked to save the App to your home screen, other devices will allow you to bookmark and add the shortcut to your home screen.
This can be accessed from any device that has an internet connection.
More News Items Please see News Archive link on left (above left).
For Game Draws, Results and Umpires, see Draw Results.
Top of page
☆ 24th January 2012. We are now on Facebook!
Like us to get updates about what is going on. Click on icon or Search for Charlestown Netball Association Inc.


☺
==========
Wet Weather Info Good Sports Info Codes of Behaviour


Top of page