Photo Gallery 2016-17
NSW Reps in Adelaide.
7th December 2017.
Well done to these two stars!
Both are ASPIRE development and Charlestown Netball Association Inc. netballers
who are away representing NSW at the Pacific School Games in Adelaide.
NSW are top of the table - Good Luck today Marnie and Aela!




UPDATE:
17th December. ☆ Congratulations Marnie and Alex who brought home GOLD !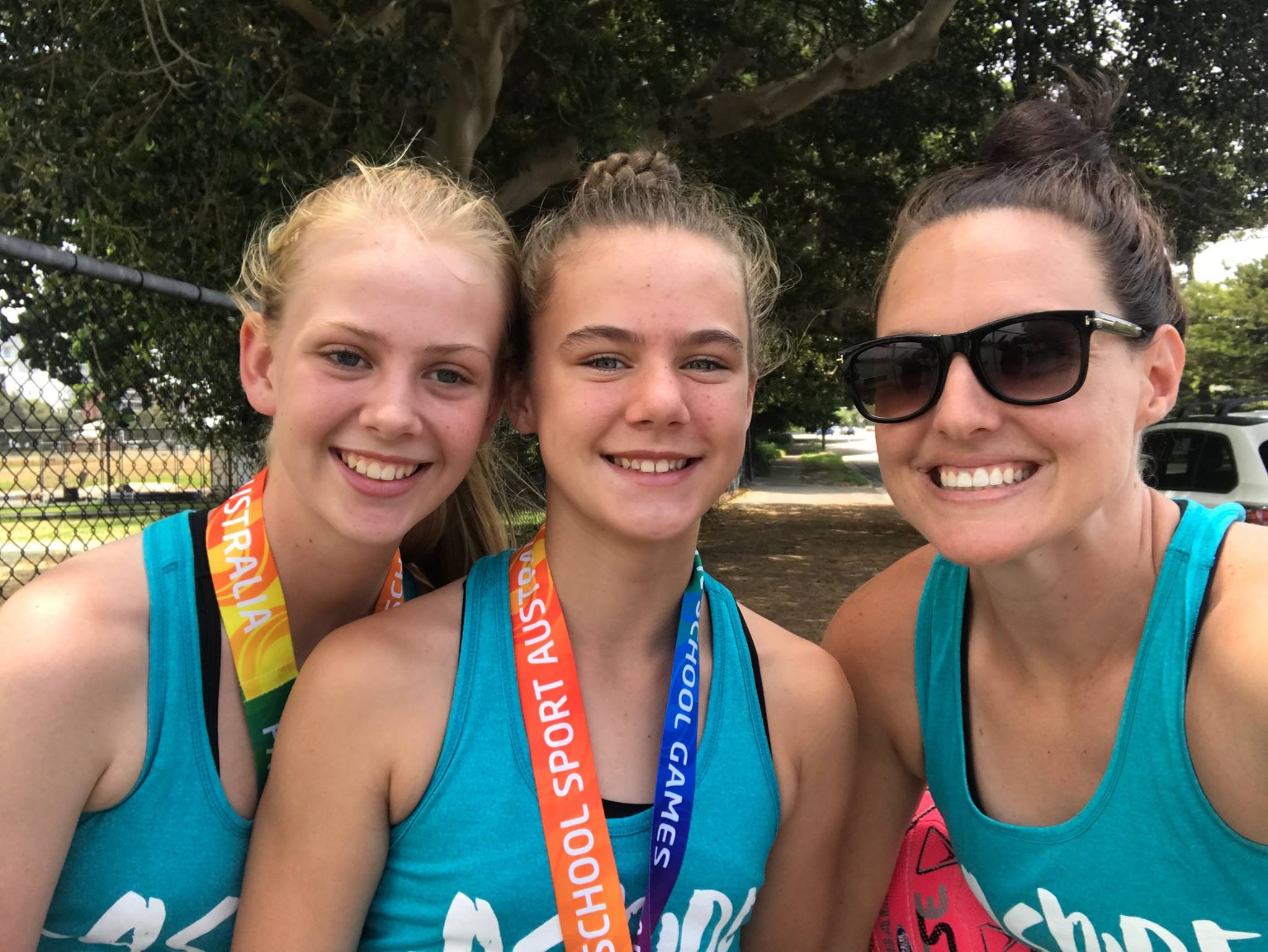 Top of page
Twilight Comp.
27th November. Last night of Twilight, congratulations to all our winners and runnersup. See you all next year.


Top of page
Twilight Comp.
20th November.
The Pink Crystals have really improved and come together as a team! 19-1 win today!
But most of all they are great sports who listen and always put their best foot forward!
We love Charlestown Twilight!!


Junior Representative squads.
17th November.
As the sun went down on a Tuesday evening for the past 6 weeks, our Junior Representative squads have been
at the courts for training, fitness, skills drills and court play as part of the lead up to 2018 Representative Team selections.
It was great to see so many keen netball faces, familiar and new.
All have shown great improvement, have listened intently to their coaches and have had fun doing it.
Good luck in selections next year girls!
You certainly have made some tough decisions for our selectors at the beginning of 2018.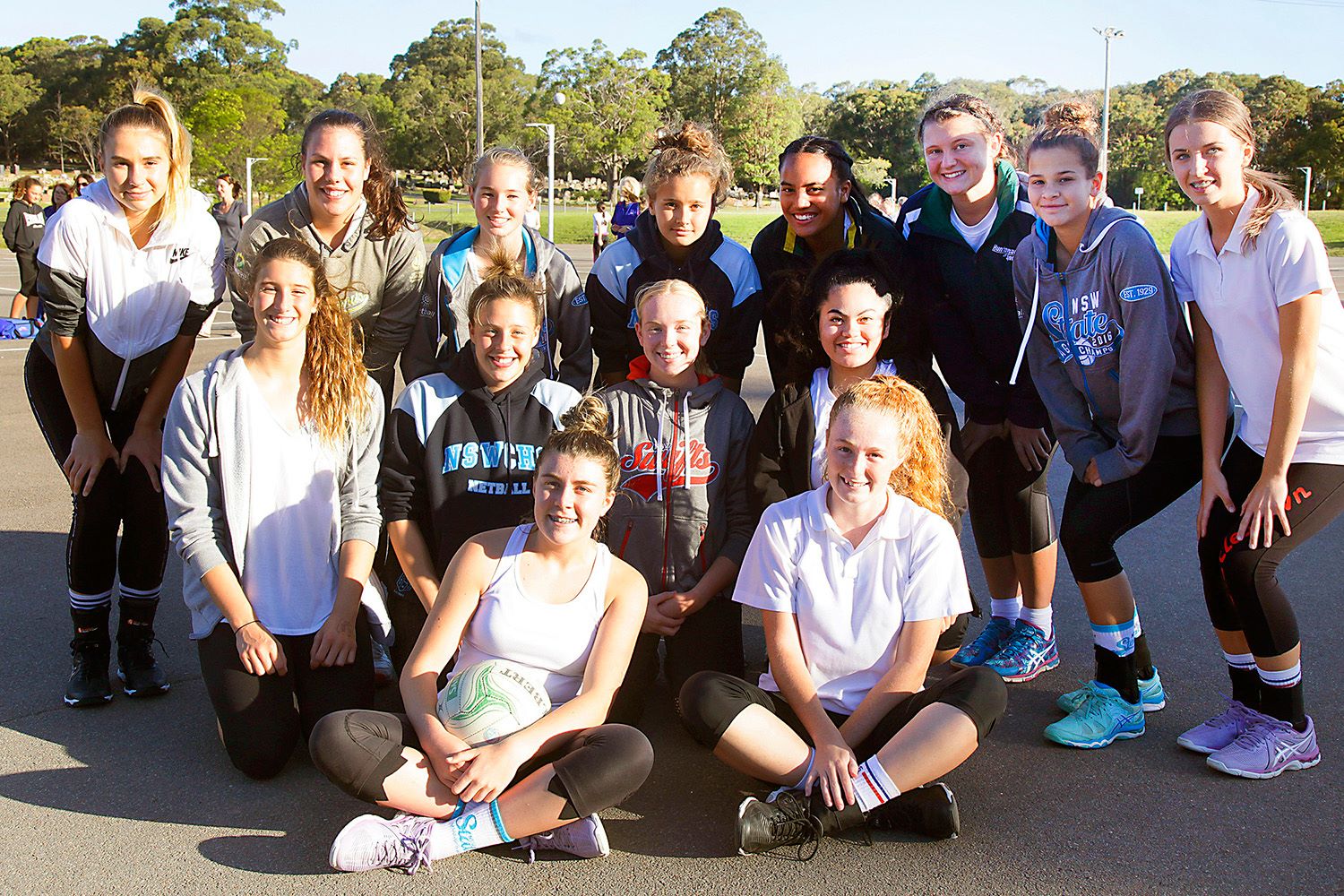 Top of page
Mark Hughes Foundation.
15th November.
Congratulations to all our members, a whopping $12,876.85 given to the Mark Hughes Foundation for all the beanies we sold. Well done everyone.


Player of the Year.
4th November.
☆ Congratulations to our U14's coach, Maddie Taylor, Netball NSW's Premier League player of the Year,
tied with Maddie Hayes. Well done Maddie.


Koori Netball Competition.
27th October.
Charlestown Netball Association would like to welcome all of the visiting teams to the Koori Netball Competition
commencing this afternoon and tomorrow.
This is the 18th year we have been fortunate to host the event,
9 teams in the 1st year, 94 teams this year, it certainly has grown.
Good luck everyone.




30th October.
Fast Five opponents on Saturday at the Koori Competition, our own Opens coach Leonie Barrett with Rebecca Bully,
the short and the tall of it.

Top of page
Grand Finals.
26th August.
☆ Congratulations to our Award winners today:
Umpires Encouragement Award - Paris Mortimer
Marie Caddies Umpires Award - Anthony Jarvis
Coaches Encouragement Award - Mandy Ross
Sportsmanship Award - Leonie Barrett
Irene Murray Medal - Kristen Tangye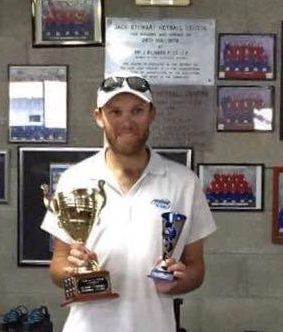 Thank You Umpires.
12th August.
Thank you to all our umpires for umpiring our semi's and finals today, the games couldn't go ahead without you.


Top of page
Beanie Day 22nd July
Great photos from our Mark Hughes Foundation, Mufti Day.
Congratulations Charlestown Netball members, you are amazing the way you all supported the event.
Well done everyone.




Lollipops and Rascals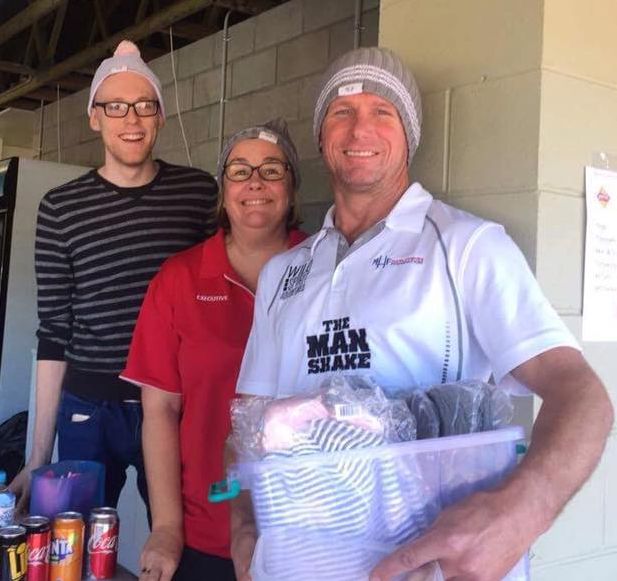 Top of page
Lake Macquarie Games.
23rd July 2017.
Charlestown Netball Association thanks everyone for participating in our annual Lake Macquarie Games - All Age Carnival.


State Age Championships.
At the end of State Age 2017, we congratulate our 12's finishing as Winners in Division 2.
A fantastic effort showcasing some outstanding netball over the weekend.
The 13's finished 4th, and 15's finished 7th, in Division 2 and our 14's played amazingly in Division 1, never giving up, all teams played hard and showed some beautiful netball skills.
Congratulations to all players, managers and coaches on your weekend.
Thank you and well done to all the Umpires who have done a phenomenal job over the weekend and
a huge thanks to Elly who kept everyone fed and watered.




Special thanks must also go to Paul, Pat, Greg and Steve who kept all our girls on the court, strapping, rubbing and giving words of encouragement, well done.
How proud Charlestown is of all our participants. Go Charlie.

3rd July. ☆ Woo hoo, massive congratulations to our U/12's who have just won Division 2 at the Netball NSW State Age Championships.
Well done Sara, Jodie and the fabulous 12's.


2017 State Age Championships.
27th June. A Great night was had by all at the Representative dinner tonight.
The Association wishes our junior representative teams the best of luck for this weekend's Netball NSW State Age Championships.
Go Charlestown.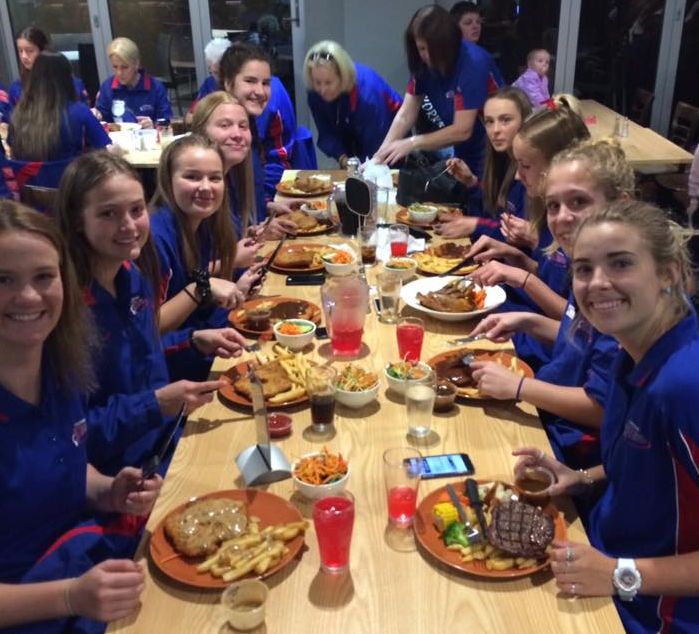 Top of page
2017 NSW State Championships.
11th June 2017

We were lucky to have sisters Eva and Minerva in our U/21's team who came runners up today in the Netball NSW State Championships.



Runners Up trophy, well done to our U/21's.




The 2017 Netball NSW State Championships held at Baulkham Hills
we wish our U/17's, 21's and Opens teams the very best of luck.
We are very proud of you and know you will all do the very best you can.
Go Charlie!

Top of page
New Cover Photo.
28th May 2017
Facebook cover photo updated.


Netball NSW Schools Cup.
18th May 2017
Sam Poolman from the Giants joined us at the Netball NSW Schools Cup - what a great day


Les Smith:
6 November.
☆Congratulations to our Umpire coach and friend, Les Smith on being awarded the Anne Clark BEM Service Award
for services to netball spanning over 60 years.
Les was presented with the award at the Netball NSW State dinner. Well done Les.




One of Netball NSW's most prestigious awards, the Anne Clark BEM Service Award is presented in acknowledgement of volunteers who give endlessly to our sport and whom, through their generosity, have made netball the most successful women's sport in Australia. These five inspiring individuals were recognised for their years of dedicated service over the weekend at the 2016 State Dinner.


Top of page
Koori Netball Tournament:
29 October 2016.
A huge thank you to our amazing volunteers who over the past two days
manned the Canteen and BBQ at our annual Koori Netball Tournament.
Thank you, we couldn't do it without you.


Halloween:
31 October 2016.



Spooktacular!
Netball NSW State Championships:
13th June 2016.
☆ Congratulations to our Open's team equal fourth in the State, and to our wonderful U/17's
who all played their hearts out over the past three days at the Netball NSW State Championships.
The association is very proud of you all.
To our coaches, managers, umpires and officials, thank you.



11th June 2016.
Go Charlestown, from banner girls, to ball girls, to players and the Swifts,
what a wonderful celebration of netball for our Charlestown players.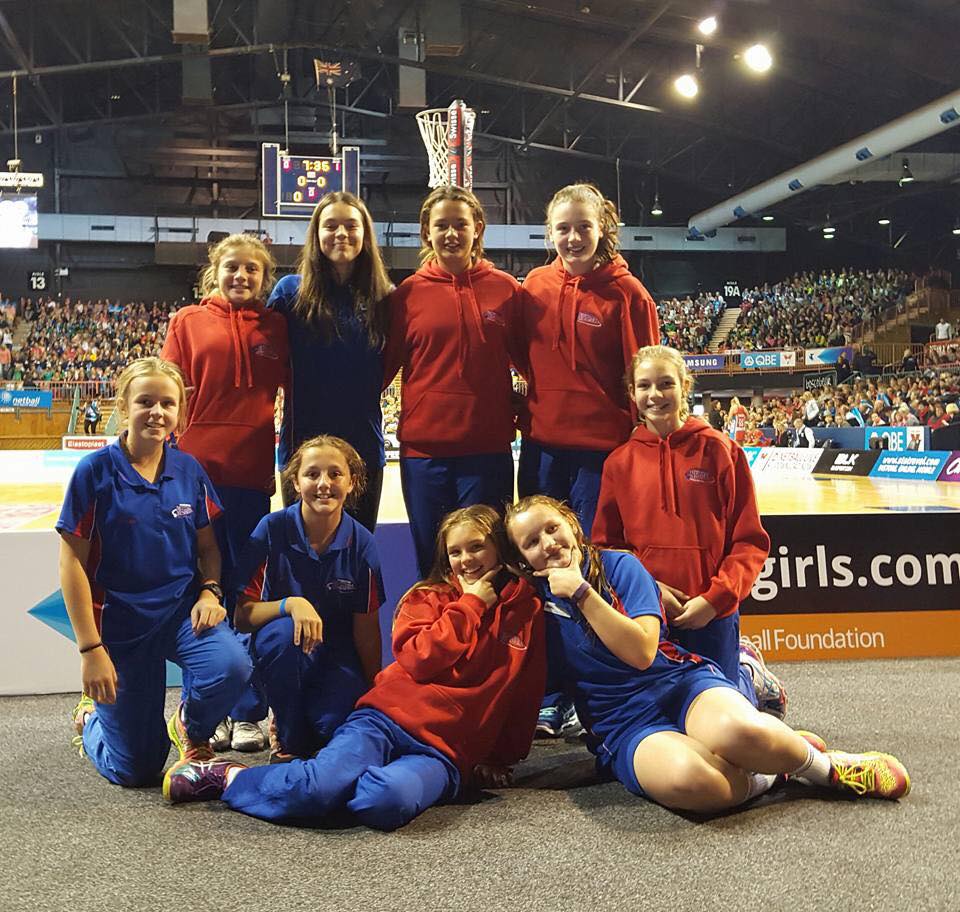 Representative Selections
☆Congratulations Brandii Davis-Welsh who has been selected in the NSW CHS U/15 Netball team.
Emma Bradford and Kyra Powell Caffyn made it to the final 32.
Well done girls.



☆Congratulations to Sam and Briella on being announced as captains of our U/12's Representative Team.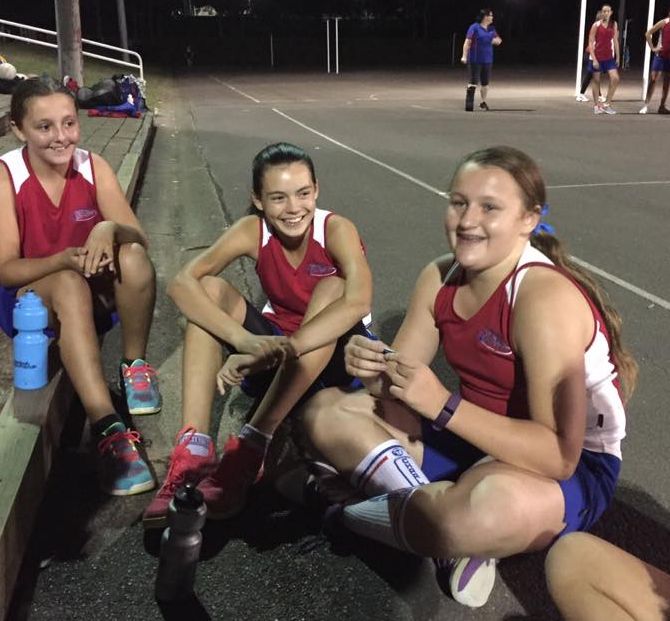 Top of page
State League.
2 April 2016
Whoo hoo, two winners and one runner up in the finals of State League today at Port Stephens.
Congratulations to our U/15's and U/14's who won their divisions
and to our U/17's who were runners up in their division.
Well done everyone!!

☆Congratulations to our U/15's team winning their division at State League today, well done ladies.



U/14's - Winners, congratulations you did yourself and the Association proud, well done ladies.



Couple of our umpires in this photo, thanks Louise and Jen for once again giving up your Sunday for us.
You do a wonderful job.

Hunter United.
2 April. The Hunter United 2016 team. Wishing you all an amazing season.


Hunter Regional League:
Well done to all our Charlie girls, playing in the first round of Hunter Regional League today.
Big thanks to all the mums and dads who helped in the BBQ and canteen, we couldn't do it without you.


Top of page
New Defibrillator:
11th October. Thank you to the Joshua Caruso Foundation for our new defibrillator.


Top of page
Grand Finals
29th August 2015
☆Congratulations to our awards winners today.

Coaches Encouragement Award - Danielle Wallace (United)
Umpires Encouragement Award - Sophie Gonano (Dudley/Redhead)
Sportsmanship Award - Elly Tindall (United)
Marie Caddies Umpires Award - Louise Webster
Irene Murray Medal - Rian Hodges (Purnells)
Well done ladies!!

☆Congratulations to Louise Webster who was awarded the inaugural Marie Caddies trophy for Umpiring.




With the netball season now done and dusted we would like to take this opportunity to thank our clubs, independent teams, umpires, executive and parents for all their support and help.
2015 has been a fantastic year, 2 x B badges, 8 x C badges, winning representative teams, great representative players, great Saturday players, coaches and parents.
Thank you all for being a part of Charlestown Netball.



2015 State Age Championships at Baulkham Hills and Eastwood Ryde.
29th June 2015.
What a fantastic weekend for all of our Charlestown Netball representative players.
A huge thank you to everyone involved in making this weekend happen for our girls.
To the parents, thank you, the support you give your daughters is amazing, the coaches and managers thank you for giving up your time
to allow the players have this wonderful experience.
Our umpires, who not only umpired but supported from every sideline as they were passing.
The sports therapists who kept every player on the court and massaged at the end of the day after those wonderful(!) ice baths.
From The Executive of Charlestown Netball, thank you all for playing and being involved at Charlestown.
☺
28th June 2015.
☆☆ Well done Charlestown 12's - winners in Division 2. ☆☆ How good do our 14's look at Baulkham Hills.


Top of page
---
23rd June 2015.
Charlestown Netball would like to thank all our Representative Coaches and Managers
and we wish you and your teams all the best this weekend at the NSW State Age Championships
at Baulkham Hills and Eastwood Ryde.
Go Charlie !!


---
Top of page
Last updated 31st December 2017.